China looks set to emerge as a significant export force by the end of the decade, offsetting its allure as a potentially vast market.
A fundamental shift in economic policy since 1980, aimed at boosting growth and increasing the volume of trade, has already had a marked effect, and some of China's competitors are beginning to feel the pinch.
If the current outward-looking policies continue, according to some recent studies, Chinese penetration of world markets could crowd out rivals, force prices downward and create protectionist pressure by the end of the decade.
This is already beginning to happen. Thailand, for example, is finding its grip on its traditional markets for corn and rice being loosened by China, which offers lower prices and better quality.
India is under pressure from China in some of its Western markets for cheap cotton fabrics and yarn, and in its Third World markets for light engineering goods.
Malaysia and Singapore are privately expressing concern at China's potential challenge to theirexports of electronics, textiles and clothing. Even Asia's stars – Taiwan and South Korea – are looking nervously over their shoulders. China's comparative advantage as a low- cost, labor-intensive producer is starting to erode their competitive edge as their own costs rise.
The recent row between the United States and China over Washington's unilateral imposition of quotas on Chinese textile imports is another case in point.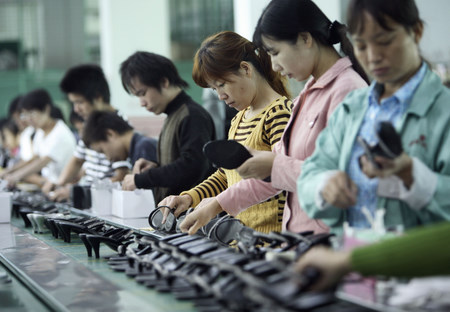 China's share of total world trade remains small (slightly more than 1 per cent), certainly by comparison to the country's size, population and resources. As an exporter, it ranks alongside Spain and Singapore. But a recent study by the Research School of Pacific Studies of the Australian National University suggests that China's trade share trade could double by 1990.
The report, part of a series of studies on the Chinese economy by the university, pinpoints textiles, floor coverings, clothing and footwear as the areas in which Chinese exports are likely to have a major impact.
Other sources identify arms sales as a potential money-spinner. These are said to have risen to $1.5-billion (U.S.) in 1983 from virtually nothing in 1981. China's oil exports have also risen steadily as production has increased.
The authors of the Australian report base their conclusions on the uncertain assumption of continued political stability and sustained economic growth. Still, their detailed analysis of the growth of China's trade patterns points to some interesting and, for Peking's competitors, worrying trends.
Chinese exports grew at 20 per cent a year (and imports at 18 per cent) in nominal terms between 1976 and 1983, more than double the annual rate of growth in world trade. The ratio of exports to national income rose to 9.6 per cent from 5.6 in the same period, according to the report.
The recent surge in Chinese trade has been marked by the increase in its dealings with Japan. Two-way trade last year between the countries totalled $13.16-billion, compared with $10.3-billion the previous year.
Huge jumps in Chinese imports of Japanese goods (steel, cars and television sets) were matched by increases in China's exports to Japan of textiles, food and crude oil.
The National Council for U.S.-China Trade said recently that two-way trade would increase by $1-billion this year to reach $7-billion.
The Australian report postulates that, were China to sustain its production and growth targets of 7 per cent a year, its share of world markets would range from more than 6 per cent in footwear to 28 per cent in non-cotton textiles by 1990.
Excluding Hong Kong, the most important destinations for Chinese goods are the United States and Japan, followed by Australia, Singapore and Indonesia. In Europe, China's chief targets are France, Italy and West Germany.
The report identifies Japan, South Korea and Taiwan as China's major competitors in clothing and textiles, and South Korea, Taiwan, Italy and the United States in footwear.
It forecasts a shift in the export patterns of China's Pacific rivals away from light manufactured goods and toward more sophisticated, capital- intensive exports. China is seen filling the gap.
How much of this proves correct depends largely on China's success in implementing economic reforms and maintaining the political stability to attract foreign investment and know- how.
It seems likely, however, that the days when China was a mere shadow on the world export scene are over.